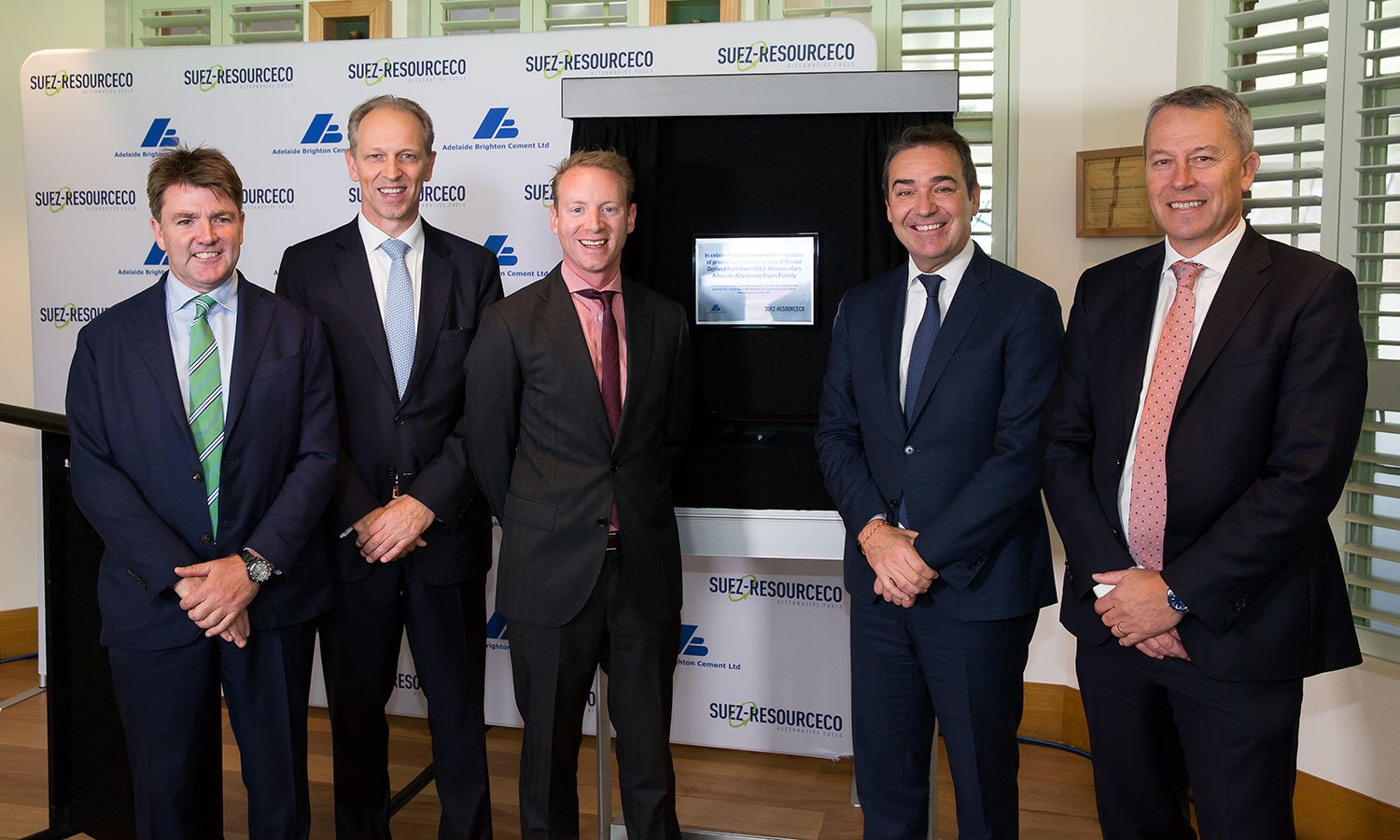 SUEZ-ResourceCo's South Australian waste to energy plant has officially produced one million tonnes of alternative fuel.
Australia's first waste to energy plant celebrated the production of one million tonnes of alternative fuel in November, and as a process aside, the diversion of two million tonnes of waste from landfill.
Working closely with Adelaide Brighton Cement, ResourceCo developed a Processed Engineered Fuel (PEF) as a partial replacement for fossil fuels for the company's cement kiln in 2006. The result is a plant capable of sorting, sizing and extracting 300,000 tonnes of combustible material each year.
The Wingfield plant in South Australia is operated as a partnership between ResourceCo and SUEZ.
Simon Brown, ResourceCo Managing Director, says the company is proud to play a role in Australia's efforts to move away from a make, use and dispose model in favour of a circular economy.
"ResourceCo's ethos is to recover, recycle and re-use products to extract their maximum value – in this case dry non-recyclable material," Simon says.
"The plant is a great example of what's possible when it comes to circular economy initiatives."
Cement produced by Adelaide Brighton, using PEF from the Wingfield plant, has been used in a host of major infrastructure projects across South Australia.
According to Simon, the Wingfield facility uses world-leading technology to harness the energy value in construction, demolition, commercial and industrial waste, otherwise destined for landfill, transforming it into a baseload fuel.
When unveiling a plaque to mark the one-millionth tonne milestone, Steven Marshall, South Australian Premier, acknowledged the facility as a great example of what's possible in the resource recovery industry.
"South Australia leads the nation in resource recovery, and projects like this are fantastic for the environment as well as the economy," Steven says.
"We know that for every tonne of waste recycled, there are more than three times the amount of jobs created compared to when sent to landfill."
David Speirs, South Australian Environment and Water Minister, says the SUEZ-ResourceCo facility reinforces South Australia's reputation as a national leader in waste management and circular
economy initiatives.
"The waste management and resource recovery industry is a major player in South Australia's
economy with approximately 4800 people employed, and we want to this number to grow," David says.
Mark Venhoek, SUEZ-ResourceCo Chairman and SUEZ Australia and New Zealand CEO, says in addition to creating employment, the SUEZ-ResourceCo partnership has resulted in significant environmental outcomes.
He adds that the facility has contributed not just to significant landfill diversion, but also a reduction in the state's reliance on fossil fuels.
"PEF presents a cost-effective, sustainable solution to the generation of baseload energy, while helping to address the complex issues of waste management – it's a win/win," Mark says.
"Since launching as Australia's first waste to energy plant in 2006, the facility has helped reduce annual green house gas emissions to the equivalent of the electricity supply of 50,000 homes."
Nick Miller, Adelaide Brighton Limited CEO, shares Mark's enthusiasm.
"SUEZ-ResourceCo's alternative fuel reduces Adelaide Brighton Cement's reliance on natural resources, as well as the use of raw materials in the cement manufacturing process," he says.
"Through the use of this alternative fuel, Adelaide Brighton Cement has achieved a reduction of approximately 500,000 tonnes of greenhouse gas emissions since project inception."
Tony Circelli, South Australian EPA Chief Executive, says the plant illustrates an innovative way of dealing with waste that would otherwise have gone to landfill. He adds that it's great to see cooperation between companies to realise the milestone.
"The EPA has driven a regulatory risk-based framework to ensure that innovation can occur with strong attention and adherence to their social license," Tony says.
"The outcome is positive both for the environment and the people of South Australia."