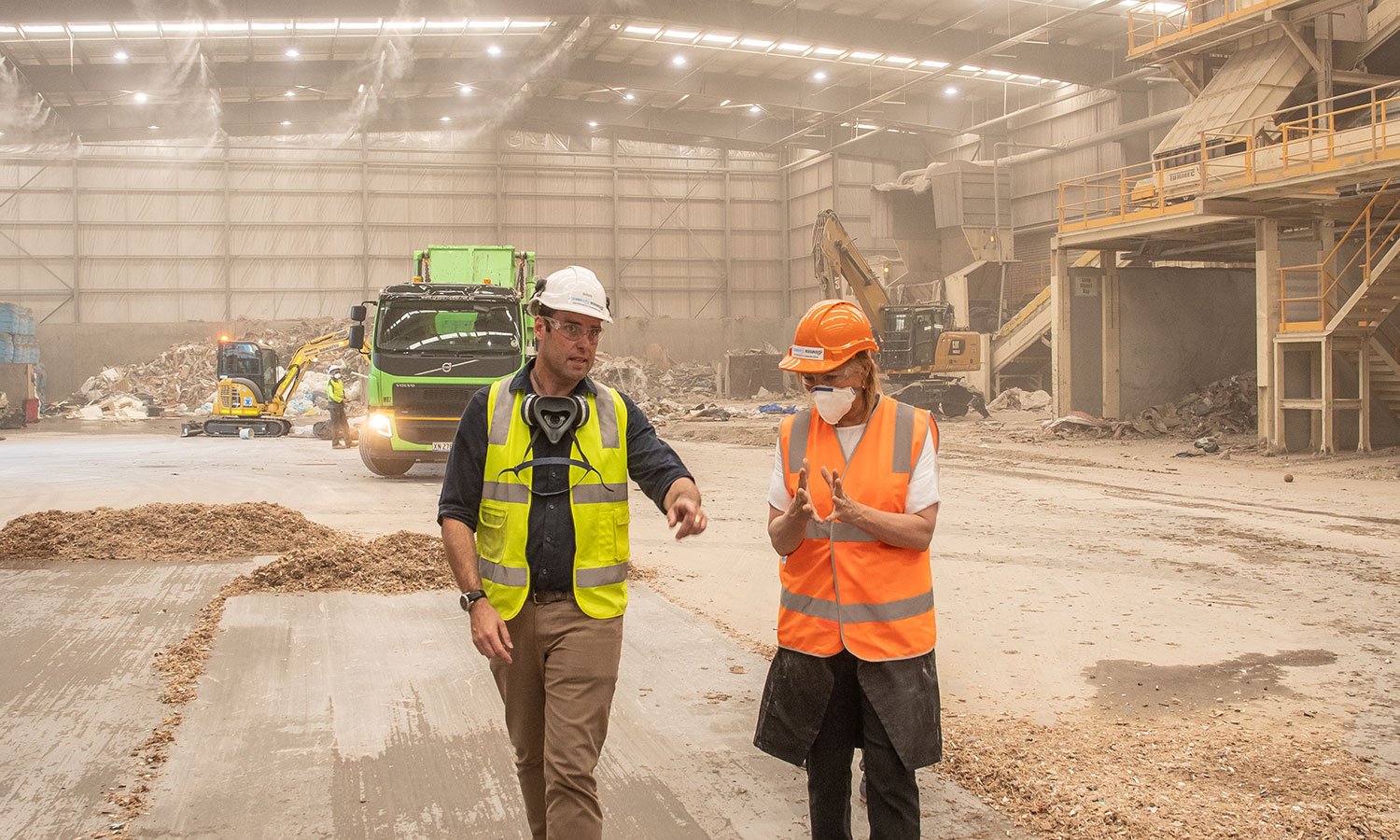 As Governments around the world seek to establish effective ways to preserve the earth's limited resources and deal with the issues of waste, facilities such as Cleanaway ResourceCo's resource recovery plant in New South Wales is providing a leading example of what's possible.
The Wetherill Park facility, which is Australia's largest plant of its kind, has processed more than 100 thousand tonnes of dry commercial and industrial; and mixed construction and demolition waste since opening in July last year. Waste that would have otherwise been diverted to landfill is now being converted into a range of commodities including a baseload energy source known as Processed Engineered Fuel (PEF).
The plant's role in advancing Australia's circular economy is generating interest both in Australia and overseas, including a recent visit from the Fijian Prime Minister.
Federal Environment Minister Sussan Ley also recently toured the state-of-the-art resource recovery facility to see first-hand the scale of the operation.
"We have a clear focus on reducing waste to landfill and increasing the nation's recycling capacity and within that context, the operation at Wetherill Park is impressive," Minister Ley says.
Chief Executive Officer Sustainable Fuels at ResourceCo Ben Sawley says the plant can divert up to 50-thousand truckloads of waste from landfill, while also reducing reliance of fossil fuels such as coal and gas.
"In one year alone, it can replace 100,000 tonnes of coal usage and takes the equivalent of 20,000 cars annually off the road in terms of greenhouse gas emissions," Mr Sawley says.
As developed countries move away from the make, use, and dispose model in favor an economy driven by the recovery, recycling and re-use of products to extract their maximum value, the importance of supporting and establishing new markets for re-manufactured products is critical.
To that end, the Federal Government is committed to working with industry leaders to decrease the amount of waste going to landfill and maximise the capability of our waste management and recycling sector.
At the recent Council of Australian Government's (COAG) meeting, leaders agreed Australia should establish a timetable to ban the export of waste plastic, paper, glass and tyres, while building Australia's capacity to generate high value recycled commodities and associated demand. They tasked Environment Ministers to advise on a proposed timetable and response strategy following consultation with industry and other stakeholders. That strategy will draw on the best science, research and commercial experience, including that of agencies like the CSIRO and the work of Cooperative Research Centres.
"We are at a point where the circular economy needs to be the mainstream economy. There are some fantastic individual industry examples and concepts in the market and our focus is on working with industry as we broaden our approach," Minister Ley says.
"This is going to require government and industry working together to ensure greater consistency across local, state and federal regulation and it is going to require a sensible approach to supporting markets for remanufactured products."
"The feedback from industry to date has been extremely positive and the clear message is that the ideas and the opportunities are there, along with the investment potential."
"What we will seek to address during the Meeting of Environment Ministers and the months that follow is a policy framework that gives the recycling industry a greater sense of direction and the comfort it needs to invest," Ms Ley says.
It's encouraging news for companies like ResourceCo which is committed to playing a key role in Australia's sustainable energy mix, by reducing waste and lowering carbon emissions through production of a commercially viable sustainable energy product.
"The plant transforms waste from selected non-recyclable waste streams that would otherwise go into landfill into a range of commodities including a baseload energy source known as PEF, which is used as a substitute for fossil fuels in both domestic and offshore markets in the production of cement and energy.
"The opportunity to tap further into this market makes good sense, both environmentally and economically," Mr Sawley says.
ResourceCo operates a suite of 22 plants across Australia and South-East Asia, having been at the leading edge of resource recovery for 25 years.
"Investment in resource recovery and innovative waste to energy solutions is critical to achieving a sustainable future."